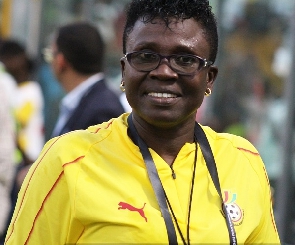 Former head coach of the Ghana women national team, Mercy Tagoe-Quarcoo, has expressed her delight with the impressive performance of the team under the current leadership of coach Nora Hauptle.
In an interview with Citi Sports, Tagoe-Quarcoo praised the team's recent 7-0 aggregate victory over Guinea in the first round of qualification for the 2024 Paris Olympic Games.

Since Nora Hauptle took charge, the Black Queens have shown remarkable strength and resilience, as they have not conceded a single goal in their last five matches.

Mercy Tagoe-Quarcoo emphasized the importance of supporting Nora Hauptle, emphasizing that Ghana's success in women's football should be the collective goal and not limited to individual achievements.
"I am so happy trust me. In all situations, Ghana is paramount. We all need to support Naura to succeed," Tagoe said.

"Ghanaians are yearning to see Ghana female national team in the World Cup, in the Olympics; it doesn't matter if it is Mercy Tagoe, it's about women's football. Let's all support put everything aside and support Nora to succeed."