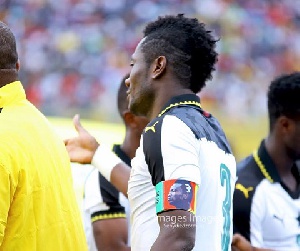 Black Stars captain, Asamoah Gyan , says he is not the first footballer to customized captain's armband.
In Ghana's 5-0 win over Ethiopia last Sunday in Kumasi – Gyan had his captain's armband customized with his picture and jersey number.

Due to that when Gyan was substituted in the second half, Andre Ayew who is Black Stars deputy captain called for another armband.

And many believed there is a rift between Gyan and Ayew.

"That is what i heard which is quite strange that people are making comments about this armband thing after a huge win," he told Accra-based Joy FM.
"Honestly i don't know what people want again, Zanetti of Inter Milan had his picture on his arm band, Icardi of Inter Milan and Sergio Ramos as well so why is it that anything Asamoah Gyan does becomes an issue."

"At the end of the day we have won and we should be happy with that."

In the said game, Gyan scored his 50th goal for the Black Stars.