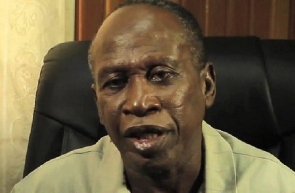 Former Ghana great Rev. Osei Kofi has been touted as one of the greatest-ever players to have played for the Black Stars.
The playmaker was head and shoulders above his peers during his generation but never featured for any club outside the shores of Ghana although there were a lot of offers for him.

He was the toast of most Ghanaian football fans in the '60s and 70s and played for Asante Kotoko the entirety of his career.

According to the nimble-footed Osei Kofi, his love for Asante Kotoko prevented him from traveling outside the country to seek greener pastures.

Speaking in an interview with Asanteman FM, the former Ghana great revealed why he opted to stay with Kotoko despite the allure of traveling abroad.

"I had a lot of offers from different European clubs but I refused to go because of the love for Asante Kotoko," the player tagged as a dribbling wizard by FIFA said.
Meanwhile, Rev. Osei Kofi has declared that he is Ghana's Greatest Footballer of All Time (GOAT).

"I am now the GOAT in Ghana now.

"I always feel proud being a Ghanaian, although I'm not sometimes being recognised," Rev. Osei Kofi said.

He was a joint top scorer in the 1965 Africa Cup of Nations tournament held in Tunis, as Ghana won the tournament for a second time.

He was the joint top goalscorer in the 1965 Africa Cup of Nations and he was the third-highest scorer in the 1968 Africa Cup of Nations.