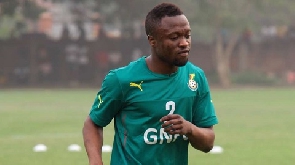 Ghana's Bernard Tekpetey has stated that he supports Premier League side Manchester United and he looks up to Portuguese winger Luis Nani. 
According to Tekpetey, despite his love for the Red Devils if any Premier League club aside the Old Trafford outfit offers him a deal he will take it.

He added that he crafted his style of play on Luis Nani's attributes and he likes the way the former Manchester United winger used both feet.

"When I was young, I was a [Manchester] United fan but that doesn't mean if a club like Arsenal or Tottenham come calling, I won't go," he said.
"When Nani was playing there, that is when I started supporting United because I was learning a lot there. I looked up to him, the way he played, his speed, and how he used both feet. I had his videos and that is how I have improved as well."