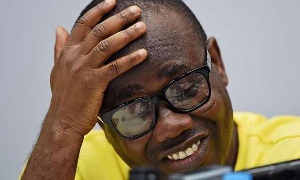 Former Managing Director of Hearts of Oak Neil Armstrong Mortagbe has expressed his sympathy for ex-president of the Ghana Football Association (GFA), Kwesi Nyantakyi, following his involvement in the Anas Number 12 exposé.
Nyantakyi was filmed in undercover investigation by controversial Ghanaian journalist Anas Aremeyaw Anas taking $65,000 (£48,000) from an undercover reporter pretending to be a businessman.

Following the airing of the video, Nyantakyi resigned from the posts he had held with football's world governing body, FIFA, and the Confederation of African Football (CAF).

The 49-year-old left his role on the FIFA Council and stepped aside from his roles with CAF including as 1st vice-president, the most senior figure at the confederation after its president, Ahmad.

As well as the FIFA suspension, Nyantakyi also resigned as president of the GFA on 8 June following an executive committee meeting.

Nyantakyi, who doubles as bankroller of Wa All Stars, was initially suspended from all football related activities for 90 days by the adjudicatory chamber of FIFA's the Ethics Committee before it as extended to 45 days.
"I feel for Kwesi Nyantakyi. I am not defending him but I know how people have benefited from the man even those who are now castigating him," Neil Armstrong told Happy FM.

"We should know that nobody is perfect. I pray God restores him to his normal life. He should know that the downfall of man is not the end of his life."

"I contested against Nyantakyi for the GFA presidency and people saw what happened but who am I to judge. I will not rejoice over somebody's plight," he added.

"Africans are so quick to pull down each other rather than supporting ourselves. Many Ghanaians got appointment at CAF all thanks to Kwesi Nyantakyi.

"I saw him becoming the next CAF president and if God wants it to happen, it shall come to pass. Nobody should say that Nyantakyi is gone forever because I believe only God can decide that and we're not God to determine it. If God wants him to be the CAF president, it shall happen even after all these problems," he concluded.