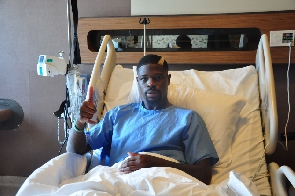 Kevin Olivier Soni was almost killed in the earthquake that rocked Turkey on Monday, February 6.
The Indomitable Lions midfielder, terrified, detailed the catastrophe that struck his club's home city in an interview with Foot Mercato.

Many people were killed and others injured in the earthquake that struck Turkey and Syria.

Kevin, first of all we want to ask you how are you?

"I'm fine… Frankly, it's an ordeal I've never experienced before. It's really something that you don't expect and that marks you for life. It is often said that in life you never know. I can tell you that I really saw why they say you never know a few days ago. At the time, I said to myself it's the end of the world and the end, period. I saw people die next to me. I am traumatised. Today, I realize that life hangs by a thread. It is in these moments that we realize that everything is vanity. Everyone abandons their house, their cars, and looks for a place to take refuge. It was really a situation worthy of a movie on Netflix except that it was the reality unfortunately. It's the thing that shocked me the most since I started playing football and in my life," he said.

You arrived at Hatayspor this season, how has it been for you so far? 

"I arrived in September, a few months before the World Cup. My goal was to do a season on loan here. Then, either I renewed my contract with Hatayspor, or I went to another club. I injured my thigh in my first game. I was operated on two days later. Three months later, I returned to competition but relapsed. I was injured in the foot. I stayed out for a month and came back on Sunday evening during our match against Kasimpasa (1-0 victory),"

And everything changed a few hours later...

"I went home after the game. I was sitting with my cousins ​​and we were playing PlayStation. Around 4 or 5 a.m. the ground started shaking. At the time, I told my cousins ​​to calm down. It was when the ceiling and the walls started falling on us that we started to flee up the stairs. We just had time to take our passports and our phones, I don't even know how I managed to think about it. We were lucky enough to get out of the building before everything collapsed (…) It was a day when everything really changed. There were many deaths. If you had told me that a week before, I would have told you that it was impossible...,"
Did you quickly feel that this event would be tragic?

"At the time, I didn't necessarily get it. It's the first time I've experienced such a thing. I felt the earth shake and thought there must be a strong wind outside. But it was when I saw that the tremors were really powerful and the ground started to split in two, I thought it was really serious. At first I wanted to jump out the window. But we were really high, on the seventh floor. I said to myself if I jump there, I will break my foot and I will not play football anymore. So I took the stairs and raced out,"

Did you fear for your life or those of your loved ones?

"Yes, that's clear. When you see people dying next to you, you tell yourself you're going to be next. The building was falling on top of us. We were really lucky because we got out a bit before it collapsed. I thought we did well. But once outside, we saw the building crumble and turn to dust. There was nothing left. Then I saw the ground split in two. I said to myself that if we managed to get out of this city, it was because God had wanted it. The floor could crack at any moment. And that was the case, the road split in two. I didn't know what was in the depths of the earth. That day, I saw what was down there. It's all black, there's nothing down there. I don't know what it is but it's all black,"

Do you feel miraculous?

"Yes. But I said to myself that if I didn't go there that day, it wasn't my day. I am a Muslim and I am very religious. What saved me was that I wanted to wait until 6:40 a.m. to say the first prayer of the day. That's why I couldn't sleep. So I tell myself that if I had slept, seen how everything fell in the house, I would certainly have died. It's even sure. The stones that fell were huge. It was a seventeen-story building, imagine. So if I had slept, I think I would have died,"

Can you tell us about this day on Monday, marked by several earthquakes in Turkey as well as in Syria?

"It was hot! After the events, I took my car to get to the club's training center as quickly as possible. The players went there in order to confine themselves. We were sitting talking and trying to eat something but the floor kept shaking. Every ten minutes there were huge tremors. For two days, we didn't eat. We only had water. We had fruit from time to time but there were women and children, with my teammates we left them these foodstuffs. We didn't eat and we tried to fetch water so that the women and children could drink. A plane came to pick us up in the next town. We left everything there. The important thing was to be safe, the material is only vanity.
It must have been difficult for your relatives, who tried to contact you.

"Everyone tried to reach us with my cousins, but nobody succeeded. There was no network, no water. Nothing. People were fighting in supermarkets to collect food, drink. There was no petrol either (…) When I had my mother, it was a relief for her because I am an only child. She no longer slept. My mother is traumatized, she no longer wants to hear about football. She told me to stay with her, but I have a contract to respect.

Several members of the club have not had your luck and are still missing, like Christian Atsu. I get goosebumps talking to you. Before that happened, I was talking with Christian Atsu on the phone. He had scored a free kick on Sunday and I told him that he had played well and that I had liked his match. I told him that I hoped to find the grounds quickly so that we could play together. But I didn't know that was the last time I spoke with him. Two hours later, I had no more news. I was told that my friend might be dead, it's enough to drive you crazy. I am certainly the last person to have spoken with him on the phone. I'm not proud to say that, I really hope we find him safe and sound. It is my wish. I pray for this everyday.

Some media have however said that he had been found. Have you had any news?

Those are lies. Tuesday evening, we flew back to Istanbul and he was not with us. If he had been found, why wasn't he on the plane? These are lies. They may have said that to maintain hope and not to frighten his family. What I can tell you is that he did not fly with us to Istanbul. I hope we will find him.

With the rest of the team, you were able to reach Istanbul. 

It was, one imagines, a relief. There was a little relief because I told myself that I was in a city where that was not going to happen. But afterwards, I said to myself that it could happen anywhere, in France, in China, in England, etc… We are never safe in the end.

Listening to you, you feel very shocked and traumatized. Frankly, it's a shock. I can not sleep. I'm with my agent every day and we talk about it all the time. It's a feeling that I can't explain to you. As I speak to you, sitting in Istanbul, I feel like the ground is shaking. But people around me tell me no, it's not shaking. It's a trauma I think. I know how to savor the little moments in life. When something like this happens to you, you are forced to change. People died next to you when you were lucky enough to survive.
How do you spend your days now?

Since I arrived in Istanbul, we try to send food and money there with my friends. We left people there and we know they have nothing to eat and drink. We know it's not easy for having been there for a while with them.

On site, did you also try to help people in need?

I'll tell you the truth. When we saw the building collapse, we saw people and we tried to save them. When you shoot people and half of their body remains on the other side, that they died, it's difficult. We did our best. We could hardly do anything. There were mothers stuck in their homes with their children. We tried to remove the blocks of stone and the more we removed them, the more it fell. We tried to save children, mothers, the elderly. But it really wasn't easy. Those we managed to save, it's thanks to God.

Football is necessarily secondary after such a tragedy. Do you dread going back to the field one day?

I don't see things the same way anymore. There, I realize that football is really a passion. But when something like this happens to you, you forget your cleats, your jersey, your career. Everything you own. It's just you and you. We don't think about football anymore. We only think of his family, his parents, his relatives. The first thing you say to yourself is, "Will I see my family again?"

What do you plan to do now? Are you going to stay in Turkey or go back to France?

For now, I'll wait in Istanbul and see how it goes. The government and the Turkish federation have not yet taken a decision regarding the cities and clubs where these events took place. There have also been fatalities at other clubs, including Malatyaspor. When a decision is made, I will consider something in relation to my career. I am in Istanbul for at least two weeks and I reflect on what happened, as well as on my career. The season is not over. Despite this tragedy, the love for football still remains. We also have love for those people who have also left us. I will sit down and think.
The whole world and in particular the world of football reacted following these terrible incidents. 

Players and clubs have messaged or helped in their own way. It is a beautiful message of solidarity. Posting messages of support is great. But not all the people out there need messages. They need support, money, food and drink. They need things to help them survive. Messages are great. I do not criticize. Everyone wears it and that's a good thing. But I was there and saw what happened. The people there are not going to read the messages. They can not. They need to eat, drink, etc.

How do you help them?

We have a WhatsApp group within the club where we send money to help people in need. You can also shop and put the food on a bus that will go there. That's what we've been doing since I've been in Istanbul.

What message do you want to send to those who read you and who perhaps want to help them? 

It can happen to anyone. It happened in Turkey. Tomorrow, it could take place in the middle of Paris. I didn't expect this to happen to me while being in Hatay. It's a lesson. We must be united. The messages, the tears, the videos, the interviews, that's good. I do not criticize. But helping out is really what they need. If I had still been there, I can assure you that the messages would have comforted me if I could have had them. But that wouldn't have changed anything in my situation, whereas being able to eat, yes. To help these people, you have to make donations, send food. They do not necessarily need money, but food. The city is devastated. Believe me, with money you're not going to do much there. I don't wish anyone to experience such a tragedy. I have teammates who were with their wives, their children or their parents who had come to visit them. They were there in the wrong place at the wrong time unfortunately.

This is also valid for you… that's kind of what happened to me, yes. But it's a lesson. I confess to you that today, when I drink a glass of water, I no longer drink it as before. I take a good look at the glass because when you come close to death, you don't see anything the same way. I see things differently. I don't want anyone to go through this, really. I hope that we can help the people there to get out of the situation and get out of the towns of Hatay, Gaziantep and Kahramanmaras. We were lucky enough to be able to talk today, but some weren't lucky enough. In a second, life can stop. You had to see how people got out. They rushed, some were even naked. They wanted to save their skin. The cities where there were earthquakes no longer exist.