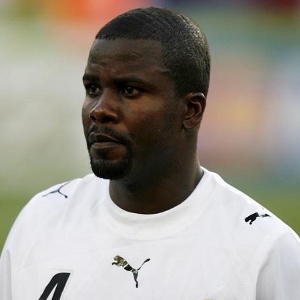 Former Black Stars defender, Samuel Kuffour has insisted that he owe no one an apology after his error against Italy in the 2006 World Cup in Germany.
Vincenzo Iaquinta doubled the lead for Italy in the 83rd minute after Kuffour made a mistake to give a back pass to Richard Kingston after Andrea Pirlo has opened the scoreline in the 40th minute.

The former Bayern Munich tackler came under intense pressure for his unfortunate mistake but have insisted he owes no one an apology.

"What happened to me in Germany can happen to anyone because this is football," he told Metro TV.

"I felt bad but after the match, I apologize to my teammates for my error.
Quizzed if has he ever apologized to Ghanaians, he said, "I will never apologize to Ghanaians because I never went out to steal.

"I committed an error and I have admitted that but I owe no one an apology."

Ghana were crashed out of the Mundial in the round of 16 by Brazil.