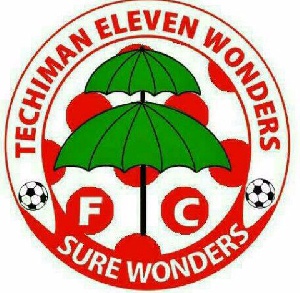 Techiman Eleven Wonders have hit out at Hearts of Oak over attempts to lure captain Kelvin Osei Asibey on the blind side of management.
In an official press release from the club on Thursday, July 6, it stressed that reports suggesting the Phobians have secured the services of the highly-rated defender are false.

"Our attention has been drawn to news making rounds across the social media that our player Kelvin Osei Asibey has been transferred to Accra Hearts of Oak.

"We wish to put it on record that Kelvin Osei Asibey is still our player and under contract and has not been transferred to any club. In fact we are looking forward to work with him next season," Eleven Wonders said in the release.
The club in the release, made it clear to Hearts of Oak that if the club wants to sign Kelvin Osei Asibey, they should contact management and open negotiations.

"We, however wish to urge any club that wants the player to contact our management for negotiations and desist from wooing and having medical of him without seeking prior approval from Techiman Eleven Wonders," the club statement concluded.