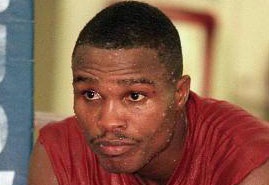 Tue, 19 Sep 2006 Source: --
According to a report in The St. Petersburg Times, middleweight Winky Wright and former welterweight champion Ike Quartey of Ghana have agreed to fight, December 2 at the St. Pete Times Forum. The report also indicates that Jeff Lacy will make his return on the undercard which will be televised on HBO.

Wright tells the paper: "Finally, I get to come home. I've been wanting to come back for a long time, but I just didn't have the television networks coming with me. But now I get the chance to show all my fans I appreciate them, and to thank them for following me out to Vegas and all the other little towns I've fought in."


Quartey's promoter Lou DiBella confirms to the paper that he believes they have a deal, stating: "Looks like we're coming to Tampa. They made us a fair offer, and we agree.

Ike said he and Winky are both used to going into the lion's den, so he's willing to sign a contract. At this point I believe we have a deal."

Source: --