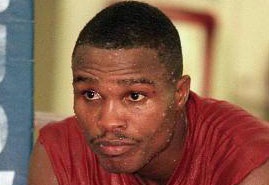 Tue, 17 Jul 2007 Source: Daily Guide
IKE "BAZOOKA" Quartey, a former WBA Welterweight Champion is said to have extended his boxing ring to his house, turning his wife, Barbara into a punching bag.

The incident, which occurred on Friday July 13, 2007 at the Quarteys' New Gbawe residence, left Barbara with puffed eyes and a bleeding toe.


When DAILY GUIDE contacted the champion on Sunday, July 15, he denied the incident, saying the last time he pummeled his wife was about eight years ago.


He pleaded with DAILY GUIDE not to publish the story since, according to him, it would "spoil (sic) my reputation as a champion and it is not good".


Earlier, Ike had insisted on knowing the source of the story and asked his wife, who had earlier spoken to DAILY GUIDE on phone, to deny the report, which she quickly did.


However, in an interesting twist, Ike Quartey phoned DAILY GUIDE a few minutes later to admit that there had been a domestic incident during which he had accidentally stepped on his wife's toe with his heavy boot.


On Friday night, DAILY GUIDE received frantic calls from neighbours of the Quarteys at Gbawe, a suburb of Accra where the couple live.

According to the neighbours, they had heard the screams of a woman from Bazooka's residence and that they suspected Ike was beating his wife 'again'.


When DAILY GUIDE dashed down to Gbawe, Barbara was said to have been rushed to El Rapha Clinic at Mataheko, a suburb of Accra by Ike's first born son, Mustapha.


DAILY GUIDE then zoomed off to Mataheko, but again missed Barbara, who had just been discharged around 9.30 pm by the doctor on duty.


DAILY GUIDE investigations at the El Rapha Clinic confirmed that Barbara was rushed to the clinic with a bleeding toe and swollen face with blisters.


A source at the clinic disclosed that she was a regular visitor to the clinic, usually with cases of assault.


It was also alleged that Barbara was a diabetic and that the injury had caused the forced removal of her toe-nail and therefore the doctor had to attend to her with special care, else she developed complications.

Briefing DAILY GUIDE, a neighbour said Barbara had been at the receiving end of her husband's anger and hot temperament and allegedly, at the least provocation, he assaulted her.


The source said this was an 'open secret' in the Gbawe neighbourhood and that sometimes, they allegedly saw Barbara running for her dear life on the street and shouting, "Aagbe mieii ! Aagbe mieii!! Aagbe mieii!!! To wit, "They are killing me", and nobody dared to help her.


The last straw that broke the camel's back was last weekend when it was alleged that the "Bazooka" returned home to find his wife in a pensive mood and asked her to stop being pensive and moody and either find something profitable to do, or die of boredom.


Ike, said to be a Casanova, was alleged to have added that his girlfriends were more beautiful and hardworking than his wife and that he could not stand "useless" people.


After a few more provocative and unprintable words that hinged on her womanhood, a shocked Barbara felt the sting of the Bazooka's slap on her face.


He was said to have also thrown a few more punches and while walking away, stepped on her toe with his 'designer' shoes.

Barbara was alleged to have started bleeding from the injured toe, in addition to dark rings around her eyes and she was subsequently rushed to the clinic by Ike's first born son, Mustapha and his friends.


A family source said Barbara and Ike have been married for the past 17 years with an 11-year- old son and the marriage was said to be on a cliff-hanger, barely surviving on 'hoping against hope'.


Residents at Gbawe and close pals of Ike have expressed mixed feelings about the alleged violence, especially at a time when he has been awarded a Grand Medal by the Government of Ghana for his immense contribution to sports in the country.


He was among 76 awardees who distinguished themselves through innovation, creativity, excellence, and hard work at the 2007 National Awards dubbed, "Championing African Excellence", held on July 6, 2007.


Ike "Bazooka" Quartey, also known as Isufu, entered boxing in 1988 and won the WBA Welterweight title six years later (1994) against Cristano Espana of Venezuela, with a KO in 11 rounds.


He has had mixed fortunes in his boxing career, culminating in his decision to quit boxing. However, he later found his way back into the game.

His latest comeback fight was on December 2, 2006 when he lost to the world's best pound-for-pound boxer, Winky Wright at Tampa in the US.


Recently, the boxer was reportedly interested in running for president, with Nii Odartey Lamptey, a Ghanaian footballer, as his running mate.


He has built a modern hospital at New Gbawe in the Greater Accra region.

Source: Daily Guide