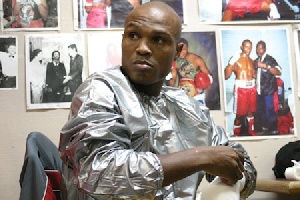 National boxing Coach, Ofori Asare disagrees with former WBA welterweight Champion Ike Quartey's assertion that he is the best man to turn things around in boxing if he is appointed as the President of the Ghana Amateur Boxing Federation.
The Black Bombers trainer believes they are equally competent boxing personalities who can change the dwindling fortunes of boxing in the country and not Ike Quartey alone.

Quartey in an exclusive interview with Sportscrusader.com stated that he is the best man to lead Amateur boxing in the country if he is appointed by government as the federation nears election.

But in a sharp rebuttal, the Black bombers coach, Ofori Asare disagrees with the former WBA welterweight champion.
"He alone cannot do boxing in this country, all that we need is support from government and corporate institutions.

"If we are able to get this, why not? We can get to the highest level that we want to get; I disagree with him if he said that, again if he wants to be the president it's simple; he should go and pick up forms and see if he can win the elections".