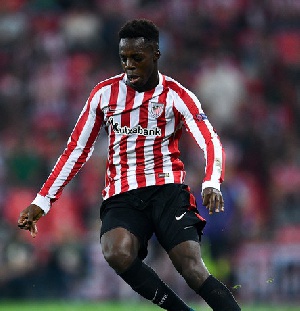 Spanish attacker Inaki Williams says he feels African despite refusing to play for his native country Ghana.
The Atletico Bilbao star is eligible to play for either Liberia or Ghana, his parent countries.

The 24-year-old has refused to adhere to persuasions from Ghana to commit his allegiance hence prefers waiting for an opportunity from the Spanish National team.

Born in Spain where he has spent all his life, Williams is still waiting for a breakthrough into the Spanish National team despite featuring for the Europeans in a friendly match.

Williams however does not want to forget his roots despite his commitment to his birth country.
"Some people are ignorant and think to be black you have to be born in Africa. No. I was born here, I feel Basque, just like my team mates," he spoke to Reuters.

"I have African blood but I grew up here, my family have adopted all the Basque customs and so have I.

"My parents were lucky enough to find good people that gave them a hand and that's why I have been able to have the life I've had. If my parents hadn't found these people I would have been born in Africa or I wouldn't have been born at all."

The player's interest in his African heritage compelled him to organize a trip with teammate Oscar de Marcos to Ghana in June with the aim to set up a foundation and build a school.