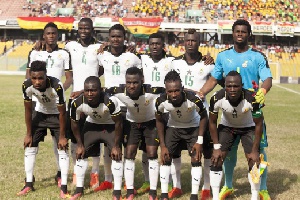 Ghana midfielder Isaac Sackey has assured fans of the Black Stars that they will beat Ethiopia on Sunday.
Isaac Sackey who currently plays for Turkish Super Ligue side Alanyaspor expressed his gratitude to the people of Ghana for the support they are offering the team ahead of the crucial game at the Baba Yara sports stadium.

According to him, the Black Stars will not disappoint Ghanaians as they seek to have a good start to their qualification.

"We have been getting lots of encouragement and support from Ghanaians ahead of key matches and I believe come Sunday the fans will be super by coming to the stadium in their numbers to support us to beat Ethiopia. He told Sportsworldghana.com in an exclusive interview at the team's Hotel.

"Players need inspiration a lot in football and efforts like this inspires us the players a lot.
"The most important thing for us is to win on Sunday, I want to assure Ghanaians that we will get the victory needed." he added.

The Black Stars have been training in Kumasi since arrival in the city on Monday from Accra.

Sackey featured in the Black Stars 6-1 victory over Davion One League side Asoka Deportivo and a friendly match on Wednesday at the Baba Yara Sports Stadium.