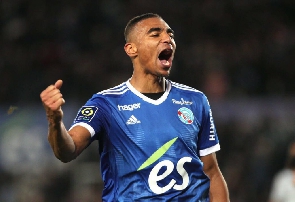 Ghana defender Alexander Djiku has reacted to Strasbourg's defeat to Troyes in the Ligue 1 on Monday.
Strasbourg are in the relegation zone with just four points behind Angers who are bottom on the table.

The Alstian club have suffered back-to-back defeats putting them up for relegation this season.

Djiku who started and lasted the entire duration has expressed his disappointment following his sides 3-2 defeat to Troyes on home turf.
"It's a very difficult evening for us. We got ourselves into trouble. We conceded two goals very quickly. It's complicated to start a game two goals down. But we saw that we were conquerors, we came back and we lacked a bit of success to score the third goal"

"They are the ones who put it on. But there is no coincidence. If we are there, it is because we still have to do more. We will do more and believe us, we will get out of it," regrets the Ghanaian defender at the microphone of Prime Video.

Strasbourg face bottom-place Angers in their next game and must avoid another defeat in their battle against relegation.