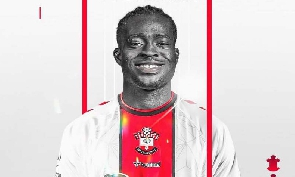 Head of recruitment at Right to Dream Academy, Jeremy Seethal has explained how difficult it was discovering a talented player like Kamaldeen Sulemana in Ghana.
According to the scout, it took him months to travel across Ghana in search of a rare talented player like the former Stade Rennes player.

Just like many scouts who have a time limit and specific traits they require of a player, Jeremy Seethal was looking for a player who was distinctive in his own way.

Seethal narrated that Kamaldeen Sulemana who was then a teenager was discovered on the final day of trials.

Reminiscing his first time watching the winger in action, the Right to Dream Academy head of recruitment, professed that he knew he had accomplished his mission after sighting the Techiman-born player.

"He came towards the end of our scouting process. I remember, just as he does cartwheels now, he did cartwheels when he scored and the feeling I got was one of cartwheels and excitement," the scout said.

Jeremy Seethal added, "It can take months, sometimes years, to find that one player. There was a sheer parallel joy, one for me as the scout because I'd discovered this rare talent and then one for the player.
Kamaldeen joined Right to Dream Academy where he was given education and had his football talent nurtured.

In 2019, Kamaldeen graduated from the Right to Dream Academy to join his first professional team, FC Nordsjælland in Denmark.

He signed for Ligue 1 club Stade Rennes for a record fee for the Danish league. He scored 6 goals in 46 appearances with the French club.

The winger recently joined Premier League side, Southampton on transfer deadline day after spending a one-and-a-half season at Rennes.

JNA/KPE