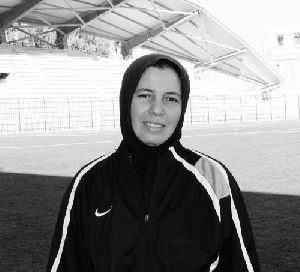 Radia Fertoul, head coach for the Algerian female national team, 'The FENNECS' has said, her team is poised to make history by being the first North African side to make it to the Federation of International Football Association (FIFA) Women's World Cup in France 2019.
The Fennecs, who have never made it to the FIFA Women's World Cup have made it to African Women's Championship (AWCON) four times in 2004, 2006, 2010 and 2014, all finishing in the group stages.

According to Fertoul, her team is very much aware of the task ahead as they are pitted in Group A alongside Ghana, Mali and Cameroon.

"We are very well aware of how tight our group is but we are poised to make history by being the first ever Northern African Country to make it to the FIFA World Cup, which means we have to qualify from our group first.

"This would be our fifth time at this tournament and our preparations have been good and we are ready for Ghana on Saturday" she added.
Algeria takes on Ghana on Saturday 17th November, 2018 at the Accra Sports Stadium before taking on Cameroon and Mali respectively.

The top three countries that would make it to the finals of this tournament automatically qualifies for the upcoming FIFA World Cup in France 2019.