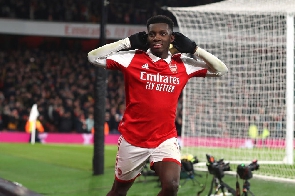 West Ham United striker, Michail Antonio has lavished praises on Arsenal striker Eddie Nketiah for his good display for the Gunners.
The Jamaican forward says he has been blown away by the form of Nketiah as he did not expect him to be that good.

Antonio says he took notice of Nketiah's good form when he scored against West Ham in Arsenal's first game after the 2022 World Cup.

He believes that Nketiah's form will serve as a lesson to clubs to trust their academy players and not always go into the market for big deals.

Antonio added that he has been impressed by Nketiah who has stepped up as Arsenal's leading striker following the injury to Brazilian Gabriel Jesus at the World Cup.

"The way he played against us – urgh. He surprised me! He was dropping in deep, picking it up, he rolled a couple of our defenders to score his goal. He was quality. From that moment I have watched him and he's been doing it in so many games.
"He's a great striker, and I'm happy for him. A young boy coming up, he's showing what he can do. You don't always have to go and spend money, you can see that sometimes in your academy you can bring boys up and they can do it," he told The Footballer's Football Podcast.

Nketiah who drew blank against Manchester City in their FA Cup tie against Arsenal on Friday, January 27, 2022 was on the scoresheet for the Gunners in their 3-2 victory against Manchester United.

Eddie Nketiah bagged a brace in the game, scoring the leveller and the winner for Arsenal in the dramatic tie on Sunday, January 22, 2023.

The two goals have shot up Nketiah's goal tally to 13 in 13 matches at the Emirates Stadium. The goals also meant that Nketiah has scored 19 goals in his 26 starts for Arsenal.

It was his fourth Premier League goal since he replaced injured Brazilian Gabriel Jesus in the Arsenal line up.