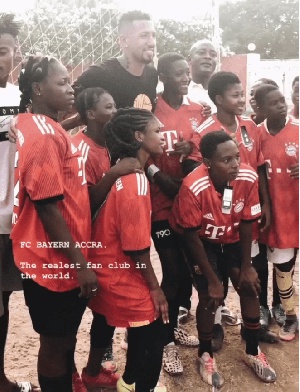 Bayern Munich star Jerome Boateng has visited Ghana for the first time where he is engaged in some philanthropic works.
Jérôme was at the Labadi Beach Resort with his younger sister Avelina Boateng and his daughters.

The defender paid a visit to an orphanage school and gave the children a full scholarship.

According to information gathered, Jérôme Boateng and his team are doing this through RightTo Play Deutschland foundation.

Right To Play is a global organization that attempts to teach children in need with educational games.
Right To Play empowers children, empowers them to unleash their potential and overcome cultural, economic and gender barriers. Help children to take their future into their own hands.

The FIFA World Cup winner has longed to be in the country of his fathers birth and it seems he is having a great time in the country.