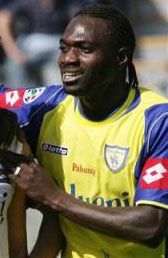 When news became rife that the skipper for the senior national team, the Black Stars would not be available for this afternoon?s friendly against Saudi Arabia, it became obvious that the headcoach of the team, Ratomir Dujkovic would find problems as to who actually will wear the captain?s band for the Stars, especially in their first ever friendly encounter since the Stars qualification to the 2006 Germany World Cup.
However, after a rather hectic and a serious observation, analysis and thinking, the technical team led by coach Doya has now settled on no mean a personality than calm, cool and collected defender, John Mensah as the captain for the side in their match this afternoon.

Contrary to reports that the captaincy would fall on Samuel Osei Kuffuor in the absence of Stephen Appiah, it is the opinion of our cherished readers that his long absence from the Black Stars team might have had an effect on this decision.

However, John Mensah, who gained his entry into the Black Stars team after helping the national Under-20 side, the Black Satellites of Ghana to the finals of the 2001 FIFA World Youth Championships in Argentina, has disclosed to ghanaweb that he would do everything possible to urge his colleagues on to victory.

A live commentary on the match will be brought to our readers by yours truly this afternoon at exactly 4.30 p.m. by courtesy of Ghana?s number one sports station, Peace FM 104.3 and elsewhere on the internet at www.peacefmonline.com and www.ghanatoday.com.
Meanwhile, the headcoach of the side, Ratomir Dujkovic who will be sticking to the usual 4-4-2 formation, has released the starting line-up for the Black Stars for this afternoon?s encounter.

Line-Up: George Owu (GK), Dan Quaye, Daniel Edusei, Samuel Osei Kuffuor, John Mensah (captain), Abubakar Yakubu, Laryea Kingston, Anthony Obodai, Asamoah Gyan, Matthew Amoah, Sule Ali Muntari.

Subs: Issah Ahmed, Aminu Dramani, Godwin Attram, Alex Techie Menson, Francis Dickoh, Philemon MaCarthy(GK).

Kick-off time is 4.30 p.m. Ghana time.