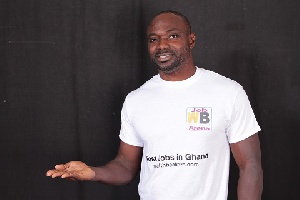 Former Black Stars captain John Mensah has been made the brand ambassador of Wealth Bankers Job Arena.
As a result, the strong defender has backed WealthBankers Job Arena, a subsidiary of WealthBankers, a member of Global Wealth Innovations' network of about 20 companies in its quest to address unemployment in Ghana and beyond.

WealthBankers Job Arena provides employers with in-depth career guidance and counseling. They help employers attract some of the best talents available in the job market.

A release from the WealthBankers communications outfit stated "Recruiting some of the top talents available in the job market is one thing that most employers hope for when a vacancy becomes available. "This is really important to employers because finding a candidate who is a good fit is their ideal goal. Many employers, however, are not able to succeed in this mission and end up spending more in another recruitment campaign."

It added "In order to help employers grab the best available talent on the market, WealthBankers Job Arena has opened its doors to prospective employers who wish to recruit some of the best candidates available.
"The WealthBankers Job Arena is an online job portal for both employers and employees. They do not only provide job posting services but also offer career guidance as well."

Besides offering employers a large database of highly qualified job seekers, WealthBankers Job Arena provides employers with in-depth career guidance and counseling. They help employers attract some of the best talents available in the job market.

The bane of recruitment comes in the form of hiring or employing inadequate candidates that may not fit into your company. This is a nightmare situation that most employers do their best to avoid but end up falling into.43353591