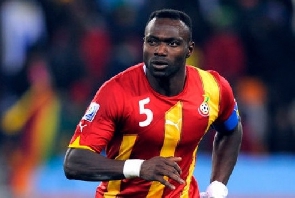 Former Ghana defender, John Mensah has revealed the inspirational behind the win over USA at the 2006 World Cup in Germany.
Following Black Stars impressive 2:0 triumph against Czech Republic after losing to Italy in their opening group match, Ghana whipped the United 2:1 to book a place in teh Round of 16 for the first time in the history of the country.

However, according to the former skipper for the Black Stars, Ghanaian citizens in the United States inspired the team to beat USA.

"Ahead of the game, we were certain of beating USA," he told GTV Sports Plus.
"We lost to Italy but we were confident Czech Republic cannot play like the Italians. Czech Republic were then 2nd best team in the world and we were able to beat so were in high spirit against USA.

"Ghanaians who were in the States called us in our dressing room and inspired us and we went into the game with determination and we won," he added.

Ghana, unfortunately, were kicked out of the tournament losing 3:0 to Brazil in the Round of 16 stage.