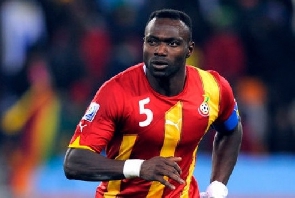 Ghanaian Spiritual Bulldozer Nana Kwaku Bonsam has come out with another shocking revelation about former Black Stars Captain John Mensah stating that the former Defender's career is over and he should never think of a return to the pitch.
Kwaku Bonsam in an interview with Kasapa Sports indicated that John Mensah should forget about a return because spiritually his career has come to an end because the escalation in his career was due to the strong backing and support from his Ex-wife Henrietta who was always interceding on his behalf.

Kwaku Bonsam said "His Ex-wife has a good spirit and she was always interceding for him John Mensah through prayers and many ways which spiraled his greatness and Ghanaians will realize that ever since he divorced Henrietta John has not been the John we used to know and he (John Mensah ) will testify that things have really gone bad for him.

"The best thing for him to do now is to render unqualified apology to the lady and build a cordial relationship with her even if a comeback is not possible or else he will struggle in the years ahead of him." Bonsam told KasapaFM.

In January 2014, John Mensah legally parted ways with Henrietta and remarried.
The 34-year old has not featured in a competitive match for over 3-years after he failed to complete his six months deal with Swedish outfit AFC United.

The former Sunderland defender represented the national U-20 team and was a member of the Satellites team that won silver at the world cup in 2001.

He made his Black Stars debut against Algeria, on 5th December 2001, just after his 19th birthday and since became a regular, starring in two World Cup tournaments, 2006 and 2010.

Kwaku Bonsam also warned footballers who divorce their wives at times when there is honey and milk and go for ladies described as gold-diggers to stop such deeds.