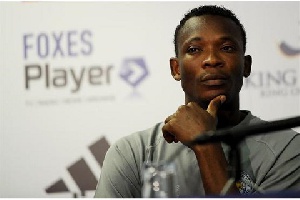 Wa All Stars want-away head coach John Paintsil has expressed his disappointment in his technical team following their refusal to back him in his trying moments.
John Paintsil was forcefully driven away from the Wa All Stars training ground by one Frederick Agbenyo accompanied by a "macho" man earlier this week.

According to the former Fulham defender, members of the technical team he personally brought to the team turned their backs on him during the unfortunate situation.

"I don't want to do anything that will destroy what we are building and at the end of the day what happened that day I think, affected all the players", John Paintsil told FOX FM in an interview.
" I'm more than a coach there (at Wa All Stars) so what belongs to you you don't take it by violent means, so I willingly left the pitch, but what makes me more disappointed is that my technical men I brought turned their back [on me] then they are with them doing those things to me", He bemoaned.

"For me I don't know whether it is good to help people or rather better you don't, so it will be an advice to a lot of people because they should understand that I'm not just the coach and nobody is sacking me to take my job, I brought you so they should advise themselves whatever they are doing", he added.