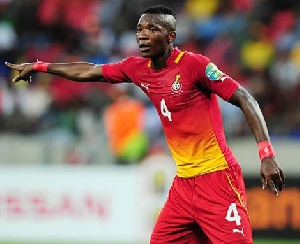 Former Fulham defender John Paintsil says he lost a contract worth £2 million after rumours claimed he stabbed his wife four years ago.
Insisting that the report was false, the right-back said the report destroyed his career because a club keen on signing him pulled out of the deal.

The ex-Ghana international says the report also dissuaded clubs from approaching him which led to the downward spiral of his career.

The right-back assumed hero status in 2006 when he helped Ghana to excel at the World Cup in Germany which resulted in top clubs chasing after his signature.

His performances led to West Ham United signing him before he went on to become an iconic figure for Fulham.

However in 2013, news spread like wild fire that John Paintsil was in police custody for assaulting his wife by stabbing her in the eye.
Paintsil said the report led to clubs that were in negotiations with him pulling out because of the bad publicity, leading to huge revenue loss.

"A lot of clubs wanted to sign me but it did not happen because of that incident. I lost close to £2million pounds due to that case," Paintsil said.

The former defender insists that the reports were false claiming he did not beat his wife after a misunderstanding at home.

"You know social media travels a lot and anything you post whether it's true or not can easily be believed and by the time the public find out the truth it's too late," Paintsil said.

"These things that came in destroyed a lot of opportunities closed a lot of doors. The news that came in was untrue. I never stabbed my wife in the eye and my wife is still well and healthy."
"I am not perfect but those accusations but i can say that I was innocent. I have never touched a woman and I will never do that."

"What is the strength of a woman that I will go to the extent of stabbing a woman's eye?"

Painstil subsequently had stints with his former club Hapoel Tel Aviv in Israel before moving on to Santos F.C. and Maritzburg United in South Africa.