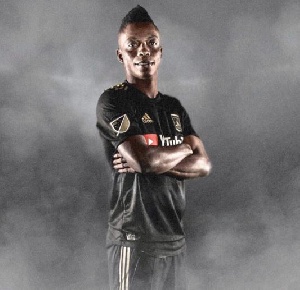 Renowned English commentator Jon Champion has eulogized Ghanaian attacker Latif Blessing following his impressive performance in the Major League Soccer with Los Angeles FC.
Blessing has become a household name in the Major League Soccer since joining Sporting Kansas City in 2017 after winning Ghana Premier League goal-king gong.

The petit forward left Kansas City after one season to sign for Los Angeles FC, where he played a significant role in their run-in to the semifinal of the 2019 MLS Cup which they lost against Seattle Sounders.

Latif's all-round play has caught the attention of Champion who currently covers the Major League Soccer for ESPN.

The UK-born commentator insists he would not be surprised to see Latif playing in one of Europe's elite Championships in the coming years.

"There is a young Ghanaian player who's caught my eye in the MLS at the moment and his name is Latif Blessing," he told Empire FM.

Prior to the start of the 2019 season, Blessing transformed from a role of reserve winger to that of a starting central midfielder.
"I think he's got a very good potential of having a brilliant career in Europe. I really enjoy watching Blessing."

"There's nothing off about him. He came to the MLS from Liberty Professionals and played out as a winger and did okay."

"However, currently, he's been converted into a box-to-box midfielder and he's doing amazing stuff there."

"He is a dynamo, full of energy and provides the drive for what is a very good team in LAFC. For me, Latif Blessing was the standout player [in that side] last season."

"At his age, 23, he's got so much promise ahead of him and I'd be surprised if he doesn't get a move to Europe soon."

The Major League Soccer is currently on hold as a result of the COVID-19 pandemic.