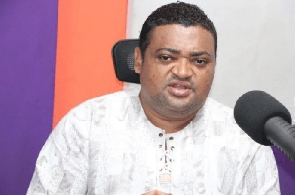 Former Deputy Sports Minister, Joseph Yamin says the Mahama government cannot be blamed for Kwesi Appiah's sacking after the 2014 FIFA World Cup in Brazil.
Kwesi Appiah revealed that his sacking in 2014 was politically motivated with former Ghana President, John Mahama, playing a huge role.

The ex-Asante Kotoko player and coach believes he was used as a scapegoat to cover up for the government's inefficiency in handling the payment of appearance and bonus fees of the players.

There was disquiet in camp and the Black Stars threatened to boycott their final Group match against Germany.

The Government of Ghana quickly organized the money and flew it on a chartered flight to Brazil to pay the players.

Appiah wrote in his published book; Leaders Don't Have To Yell, he said: "To anyone who was objectively looking at the facts of the circumstances surrounding Brazil 2014, it was obvious that my sacking was an attempt by the powers that be to shift blame away from themselves.

"Kwesi Nyantakyi called me to his office and informed me that he had been asked by the president of the nation (John Mahama) to relieve me of my duties. When decisions about the national team staffing became heavily politicised, it was very clear to me that the political machine was flexing its muscles to make me a scapegoat."
"The Minister for Youth and Sports who should bear the ultimate responsibility for the money issue that was at the heart of the Brazil problem was reassigned to another job in the President's office but I was rather fired."

In response, Joseph Yamin on Kumasi-based Nhyira FM said they did everything in their power to ensure Ghana's qualification but we were just not lucky and warned Appiah not to blame the Mahama government for the failure or his dismal.

"If Coach Kwesi Appiah wants to play politics, some of us will have no option than to speak about how we dealt with him and the support we gave him. It's very unfortunate he's towing this line"- Hon Joseph Yamin, former deputy Sports Minister, Ghana.

"Coach James Kwesi Appiah had all the support he needed during the NDC time. It took me one hour each on the phone for Andre Ayew and Jordan Ayew to accept render an apology to him. Call Kwesi Appiah and let me challenge him on-air."

"Kwesi Appiah's sacking should have been before the World Cup but some of us stood behind him. I personally turned down the Avram Grant meeting before the World Cup when the lobbying had started. Coach Grant told us he will not take any money from us for taking us to the world cup"

"I would have been disappointed if I was able to show up at Coach James Kwesi Appiah's book launch. I am really disappointed in him after reading his book. I'm surprised" – Hon Joseph Yamin, the former deputy sports minister, Ghana. Kwesi Appiah was reappointed in 2017 and worked for two and a half years.