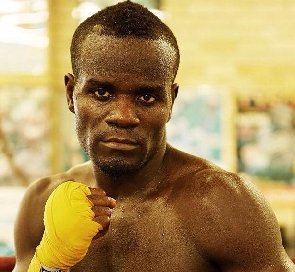 The James Town Police in Accra are currently holding in custody former IBF Welterweight champion Joshua Clottey for assault, Ghanacrusader can authoritatively report.
Joshua Clottey went into hiding since last week after assaulting 21-year-old footballer, Sylvester Ayitey-Adjin at the Bukom park.

After news reports went viral over the incident and subsequent search by the police for him, Joshua Clottey turned himself in this morning leading to his detention.

As at the time of filing this report, the former IBF welterweight champion had his statements taken.

Sources at the James Town Police told Ghanacrusader Joshua Clottey has admitted assaulting the footballer.
His explanation that the footballer hit him first was not taken kindly by the police as there was no evidence to that effect.

In an interview with Ghanacrusader's Usman Alhassan, Chief Inspector Dompreh of the James Town police said they would investigate the case to its logical conclusion and ensure justice is done.

Joshua Clottey is currently making frantic telephone calls to get people to come to the police station for him to get bail.

Medical report forms issued by doctors at the Korle Bu Teaching hospital show vividly that Joshua Clottey did assault the footballer.