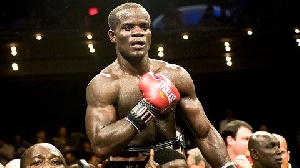 Former World champion, Joshua Clottey, has predicted doom for Emmanuel Tagoe should he fight Isaac Dogboe at super featherweight (130 pounds).
According to the former IBF World welterweight beltholder, Tagoe would have to lose a lot of weight before making the exact weight for the fight and that will negatively affect him in the ring.

Clottey explained that, it will be dangerous for Tagoe to do that and if he doesn't take care Dogboe will kill him in the ring.

"Dogboe's camp are making sense by saying if Tagoe wants to fight they will fight him at super featherweight, how can Tagoe make super featherweight?," he quizzed in an interview with Ghanacrusader.com.

He continued, "I kept on saying this doesn't make sense, Tagoe can never make super featherweight, hell no, he will die in the ring. Dogboe will kill him. If Tagoe makes super featherweight he can't even stand to fight, he will not get enough energy."

Clottey in advising Tagoe's camp said, "Do you know how Manny Pacquaio got to where he is?, Pacquaio was doing good and Oscar De La Hoya felt the way he is very tall and Pacquaio is shorter he can beat him and he said he wants to fight Pacquaio and Pacquaio said he will fight him at welterweight.
Oscar was really beaten up, he couldn't do anything in the ring, the energy wasn't there because he lost a lot of weight. When you lose a lot of weight it means you will lose a lot of power before you go into the ring.

"Tagoe can't make the super featherweight, hell no, they have to be smart."

After Tagoe's last Saturday's win over Fernando David Saucedo, the former's camp threw a challenge at Dogboe and the latter's camp accepted to fight.

Tagoe holds the IBO lightweight belt while Dogboe currently holds the interim WBO World super bantamweight strap.