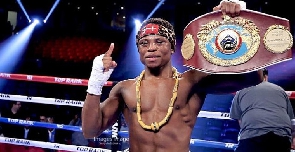 Former International Boxing Federation (IBF) lightweight champion, Joshua Clottey, has urged Isaac 'Royal Storm' Dogboe to go on and win the WBO super featherweight title in his upcoming bout against Robeisy Ramirez in Tulsa, Oklahoma, on April 1.
Isaac 'The Royal Storm' Dogboe, who could become a two-time world champion will take on Cuba's Robeisy Ramirez in a WBO world title bout in Tulsa, Oklahoma, on April 1.

Although Clottey described the upcoming bout as a tough one, he was confident that Dogboe would come out victorious in his bout in the featherweight division.

"I am glad to see him come back stronger after those setbacks against Navarrete some years ago, and I am confident he can deliver.

"He is a great fighter, and I am confident he would come out victorious against one of the toughest in the division," said Clottey.
Isaac Dogboe has not lost a bout since his two consecutive defeats to Emanuel Navarrete. The Ghanaian pugilist has a record of 15 knockouts in 24 wins and 2 losses.

His opponent, Ramirez, is a two-time Olympic gold medalist in the flyweight division at the London 2012 Olympic Games and the 2016 Olympics in Rio, Brazil.

JNA/FNOQ