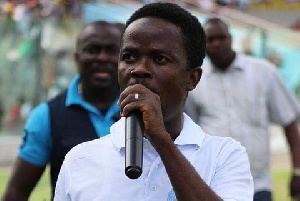 "Journalists and officials who benefited from what many have described an outrageous AFCON budget yet have the nerves to criticize are hypocrites", these are the words of the spokesperson of the Normalisation Committee, Dan Kwaku Yeboah.
Though he admits some of the things must be criticized, Ghanaians need to be realistic in their criticisms especially those who benefited from the per diems.

"Some of the things ought to be criticized we need to be realistic. What is more painful is the fact that some of them went to enjoy in Egypt but the same person is loud criticizing. Those days we were talking about budgets if you gave us money we will not take because we do not want out names to mentioned anywhere", he disclosed on Accra-based Peace Fm monitored by MyNewsGh.com.

He is particularly shocked that those journalists including officials have made a sudden u-turn and joined a section of Ghanaians to bastardize the Normalisation Committee as well as the Ministry of Youth and Sports over the $4.5 million budget.
"If you have enjoyed part of the budget you must shut up. Making a u-turn to criticize the very move you benefited is hypocrisy. During the reign of Nyantakyi when I spoke against the budget he met me on so many occasions and gave me money I rejected it because I did not want any trouble. But some of the journalists and officials took per diem but are heard also talking", he added.

The sports journalist denied ever taking winning bonus but admitted taking per diem.

"I took per diem but not winning bonus. It is not right for me to take winning bonus", he emphasized.