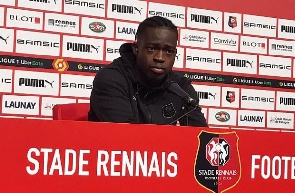 After joining Premier League side Southampton, Black Stars winger Kamaldeen Sulemana has written a heartfelt farewell to his former club, Stade Rennes.
Kamaldeen joined Southampton on transfer deadline day after spending a one-and-a-half season at Rennes.

The 20-year-old joined the Saints in a deal worth 25 million euros with further 3 million euros add-ons. The winger played 34 matches in the French Ligue 1, scoring 5 goals with 2 assists.

In his farewell statement to the club, Kamaldeen thanked the club for standing by him through hard and good times and for the opportunity to play and share memories with them.

Read Kamaldeen Sulemana's statement below:

I never thought my journey as a Rennais will be this short but the time has come for me to turn the chapter.

Through the hard & good times, this journey has been full of great memories & lessons. I played alongside very talented mates & friends who became family.
The Roazhon Celtic Kop, Les Socios, Allez Rennes, Roahzon's Calls & the entire fans made Roahzon Park a unique story in my chapters.

From my debut vs Lens on 8-08-21 to my last game vs Lorient 27-01-23 throughout my 18 month stay in Brittany will be one I will keep at heart & thoughts.

All the best this season & beyond

Allez Les Rouge et Noir

Saint Sulemana Loading……

JNA/FNOQ