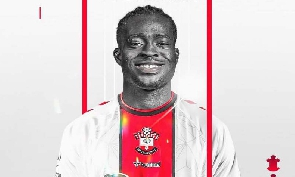 Ghana winger Kamaldeen Sulemana on Saturday made his first start for Southampton since joining the club in a record-breaking transfer from Rennes.
Southampton smashed their transfer record to sign the young striker for a fee of £24.6m during the January transfer window.

After making his debut as a substitute last weekend in Southampton's 3-0 loss to Brentford, Sulemana was given his first start against Wolves at St Mary's. Despite Southampton losing 2-1, Sulemana had a strong performance, constantly making runs and moving into channels, causing problems for the Wolves' defence.

However, despite his solid performance, Sulemana believes there is room for improvement. He said, "It's a good start, but I could've done better with the finishing as well. I put myself in so many situations where I should have at least hit the target, maybe a rebound or something."
Sulemana knows that he has the potential to bring even more to the team and is determined to continue improving. He stated, "I think I did decently but that's not my best game. I hope to bring more to the team and cause more problems for the opponents."

Southampton will look to build on Sulemana's strong start when they travel to London to face struggling Chelsea. The club, currently sitting at the bottom of the league, will be hoping to pick up three points and start their climb up the table.