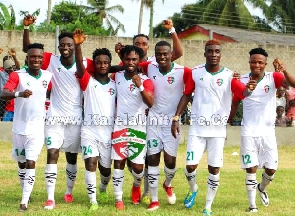 Karela United defender Maxwell Agyemang has thanked the club fans for their unflinching support following their victory over Berekum Chelsea.
The former Kotoko player was in action when Karela United strolled to a 3-1 home win over Chelsea at the Aliu Mahama Stadium on Sunday.

Evans Adomako broke the deadlock for the host after 22 minutes into the game as they held onto the lead for recess.

After the break, Evans Adomako doubled his side advantage after scoring his second goal of the match in 55th minute before George Amonoo sealed victory for Karela United.

Stephen Amankona pulled one back in 78th minute after scoring from the spot.
"+3 Thanks To All The Supporters At The Stadium ???? I really Appreciate The Love You Guys Gave Us This Afternoon ❤️✊????.#BELIEVEandTRUSTthePROCESS" he wrote on social media.

The 27-year-old joined Karela United before the start of the season after leaving Asante Kotoko.

Karela United are 2nd on the Ghana Premier League standings with 3 points after 2 games.