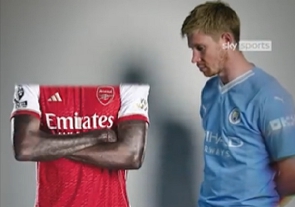 Manchester City midfielder, Kevin DeBruyne included Black Stars midfielder Thomas Partey in the creation of his perfect player.
In a video shared in by Sky Sports, DeBruyne chose Heung-Min Son to be the base of his player - from wait to legs. He also chose Partey to be the body and picked Van Vandijk to be the head.

He explained that Son can use both feet and is rapid while adding that he needed Partey's physicality for his player and Van Dijk's head to complete his creation.

The video had several Premier League players creating their perfect players. The players were made to create their fantasy players with only Premier League players.

The league heads into matchday 5 with some exciting fixtures lined up. League leaders Man City will face West Ham United in an away fixture while Thomas Partey's Arsenal take on Everton.

Both Partey and DeBruyne are on the list and thus will not feature in the respective games.
Premier League players pick their PERFECT player ???????? pic.twitter.com/FJDnLhzlrM

— Sky Sports Premier League (@SkySportsPL) September 15, 2023
EE/KPE
Ghana's leading digital news platform, GhanaWeb, in conjunction with the Korle-Bu Teaching Hospital, is embarking on an aggressive campaign which is geared towards ensuring that parliament passes comprehensive legislation to guide organ harvesting, organ donation, and organ transplantation in the country.
Click here to start the nomination process for the 2023 GhanaWeb Excellence Awards