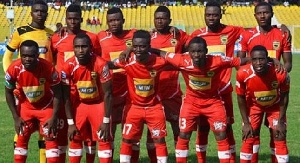 Kumasi Asante Kotoko's friendly international match against Romanian club, Petrolul has been moved from Friday, September 4 to Sunday, October 11, 2015.
Organisers of the game, Pacific Football Ghana Limited announced this in a press release on Monday morning.

Below is the full text of the of press statement signed by the Chief Executive Officer of Pacific Football Ghana, Eric Oppong-Yeboah.

KOTOKO 80TH ANNIVERSARY CUP MATCH BETWEEN KUMASI ASANTE KOTOKO SPORTING CLUB AND PETROLUL FOOTBALL CLUB (DUBBED THE KOTOKO–PETROLUL CLASH) RESCHEDULED

Pacific Football Ghana is pleased to correspond with you on the above subject.

We write to inform you that in consultation with the participating clubs, sponsors, and other key stakeholders the Kotoko-Petrolul clash has been rescheduled from 4th September to 11th October 2015.

We are working assiduously towards securing clearance from the Ghana Football Association for the new date (11th October 2015).
Thank you.

Sincerely,

Eric Oppong-Yeboah

Chief Executive Officer

Pacific Football Ghana

Credit: asanteKotokosc.com