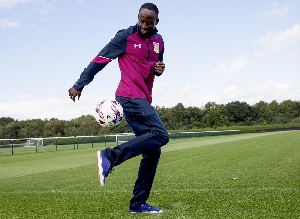 Hard-working Ghana international Albert Adomah says he is so proud of his career after making good use of the opportunity given him to play football.
The now Villa forward has played in the Championship playing a key role to enable Middlesbrough to gain promotion to the English Premier League last season.

The direct winger also played a couple of minutes at the World Cup with Ghana-something that stands tall in his memory even if it was for a short period.

His story from non-league to the World Cup is one that inspires him to continue working hard and enjoying his game, reminding him of how far he has come from playing in the garden to playing with World beaters.

"I started from just playing local football with my friends, just kicking about in the park not playing for any academy side.
"From there I joined a non-league side, Harrow Borough. That's more local to where I live in West London."

"I started with the youth team there, progressed to the first team and from then it was just history, turning professional with Barnet."

"I always feel grateful and I have a moment to myself sometimes thinking."

"Coming from non-league football, stepping up the ladder slowly. Becoming professional at Barnet, going to Bristol City, all of it's a platform in itself, even going to Middlesbrough as well."