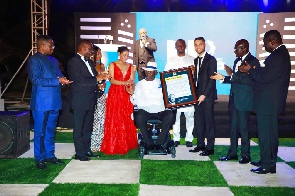 Former president John Agyekum Kufour, Minister of Justice and Attorney General Godfred Yeboah Dame, and Sports Minister Mustapha Ussif led patrons at a special dinner to raise funds for the construction of the Dannylist Golf Academy.
The Golf Academy which will be the first of its kind in Ghana is the vision of US-based, professional golfer of Ghanaian descent Danny List.

Over $80,000 was raised at the fundraising dinner on Saturday, January 21, 2023, with the sale of a Rolex watch, diamond necklaces, rings, among other items.

The DannyList Golf Academy will include a driving range that offers a variety of targets that will allow young golfers to hone their talents.
The DannyList Golf Academy which will be the first of its kind in Ghana, will be vital in making sure that Ghanaian kids who do not have an interest in either boxing, athletics, or football have other sporting options.

The DannyList Foundation, the organization seeking to build the academy was established by Danny List who wants to empower the Ghanaian youth through golf.

This he said is because "it was difficult for me to pursue a career in golf as a young boy in Ghana because non of my had developed an interest to play golf because of the stigma and they would rather play football."