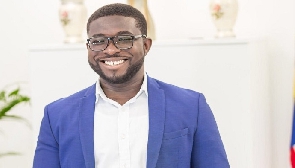 Sheikh Tophic Abdul-Kadir Sienu, a known ally of the President of the Ghana Football Association has hit back at the Chief Executive Officer of Kumasi Asante Kotoko, Nana Yaw Amponsah over his persistent attacks on the FA.
Sheikh Tophic in a social media post accused Nana Yaw Amponsah of using his Kotoko office to prosecute personal vendetta.

He alleged that since assuming the role of CEO of Asante Kotoko, Nana Yaw Amponsah has clashed with a number of institutions and persons due to his confrontational style of leadership.

Sheikh Tophic urged Kotoko fans to be wary of the behavior of Nana Yaw Amponsah as he is using the club to burn bridges.

"Dear Asante Kotoko fans, if u don't know Nana Yaw Amponsah is destroying your club, do a critical analysis of his reign. He is using your club to settle his personal scores. He is always finding avenues to fight the GFA to over up his incompetence.

"He's using some of you to fight referees. He fought Chibsah! He fought Maxwell Konadu! He fought Prosper Ogum! He fought his own physical trainer Leonard Akoto in a disgraceful manner. Above all, he is in combat with the man who brought him to Kotoko, Dr. Kwame Kyei.

"Find time to check the number of Kotoko players who have taken your club to Player Status Committee to seek redress. This is not Kotoko! You may not like what I am telling you. But SOME of you should open your eyes and do a critical analysis of your team. Is this your Kotoko? The club's interest should be paramount to anybody's personal interest" he shared in a Facebook post.
Nana Yaw Amponsah has been very critical of the Kurt Okraku administration over a number of issues.

The latest point of divergence between him and the FA President is the claim by Kurt Okraku that the responsibility of drawing fans to the stadium does not lie with the FA.

Nana Yaw Amponsah, in a Twitter post, argued that the GFA has a role to play and that the president should implement a committee report on the situation in 2009.

"In 2009 (14 years ago), GHALCA in collaboration with PLB and GFA held a seminar at the Accra Sports Stadium to ascertain why people were not attending league matches. I was invited by then GHALCA Administrative Manager Mr. Kurt Okraku as a Guest Speaker."

"A committee was later formed to implement ideas put forward by all speakers. I'm sure President Kurt Okraku would be the right person to tell us where that committee report is and of course, has the power to implement the same now that he is GFA President.


Watch the latest edition of Sports Check and GhanaWeb Sports' take on Black Stars squad below





EE/KPE