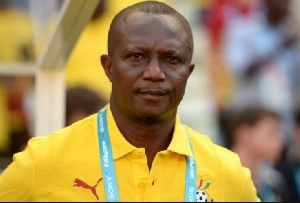 Kwesi Appiah got his second stint as Black Stars coach off to a flier against Ethiopia but was soon dealt a bout of reality by Mexico and the USA.
Successive defeats to El Tri and the Stars and Stripes meant the hallelujahs of the 5-0 demolition of the Walias ephemerally lasted only 18 days. That wasn't even his first true test.

Appiah's reappointment as Ghana coach in May divided opinions. Under his tutelage, the Black Stars churned out their worst exhibition at the World Cup, punitively leaving his head for the chopping.

Jonathan Mensah, Fatau Dauda console John Boy Ghana Portugal 26062014 However, truth be told, problems of the Brazil 2014 debacle were deeply rooted beyond the 57-year-old, a thinking that led many into believing that he was, perhaps, victimized for things beyond his control.

The other school of thought say the former Asante Kotoko man never really exhibited the tactical nous and cachet worthy of such an esteemed position as head coach of the Black Stars – the World Cup only brought to the fore his tactical ineptitude and absurd lack of team command.

However, with the benefit of the doubt, he has been handed a second chance to prove his worth or otherwise be plunged into perpetual condemnation.

The 5-0 shellacking of Ethiopia in 2019 Africa Cup of Nations qualifying was refreshing not least because it launched the perfect euphoria in welcoming the nation's pride back to Kumasi, having been away since 2014.
However, against Mexico and the USA shortly afterwards, the Black Stars were at sixes and sevens, lamentably beaten 2-1 by a second-string El Tri outfit and a weakened Stars and Stripes side. Fortunately, those were just friendlies after all, and the usual "we had to give chance to new players to show their worth" line was used to save face.

When Ghana take on Congo in 2018 World Cup qualifying double-header on September 1 and 5, there will be no margin for error, no excuse to paper over the cracks and certainly no branch to hold on to.

Five points adrift of group leaders Egypt and three behind second-placed Uganda after matchday two, the Black look set to need to win every single remaining game to have any chance of making it to a fourth successive World Cup.

Emphasis is placed on "to have any chance", as winning all four matches will not by itself grant Ghana passage to Russia.

It's such a shame that the four-time African champions' fate lies in hands either than their own.

The Black Stars will only shoot themselves in the foot should they claim anything less than six points against the Red Devils. Their already bleak chances cannot be made any bleaker
This leaves Appiah on a thin line between dignity and indignity, an imminent - and apparently risky - encounter with greatness or damnation.

Granted, it will be a tough call – and an agreeably unfair one – to mandate Appiah to qualify the Black Stars to Russia 2018, judging by the current precarious state of affairs.

However, it will not be too much to ask for three points – backed by a good display - against Congo on Friday.

It will not be outrageous to demand a win – no matter how dirty it comes - when Ghana take on the Red Devils in Brazzaville in the return leg four days later, and it will certainly not be out of place to require full points in October's trip to Uganda, despite their impressive victory over Egypt on Thursday.

If he can somehow steal Ghana into Russia, that would almost certainly shut up the cynics for good.