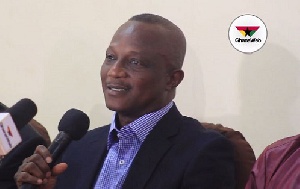 At one point in the past few days, Kwesi Appiah was being lambasted as a 'clueless, tactically bankrupt' coach, and the next he was being hailed as a man who knew all there was to know about football.
The Ghana coach has seen his stock fall and rise again over the two recent World Cup qualifying games against Congo, and those matches provided vital clues about the direction the Black Stars need to take for the future.

The 1-1 draw against Congo in Kumasi last Friday was followed by a 5-1 win away in Brazzaville this week. Those two results mean the Black Stars are still playing catch up, with leaders Egypt four points ahead and Uganda two. Only the group winner will qualify for Russia next year.

Ghana's hopes of a fourth straight World Cup appearance may have taken serious body blows over the last international break but it may have inadvertently worked magic for Appiah's long-term team-building effort for the 2019 African Nations Cup and beyond.

In three competitive games since his return to the Ghana job, Appiah's team have won two, drawn one, and scored 11 goals.

That one draw in Kumasi felt like a defeat, as the aforementioned fan-media lambasting attested, but also triggered a debate about the usefulness of established names like Andre Ayew and Asamoah Gyan.
The 5-1 display in Brazzaville, without said pair, is bound to fuel the debate further. It is telling that Ghana's best games under Appiah have come when he has trusted younger players and given them more responsibility.

In Brazzaville, the Ghana boss unleashed Thomas Partey in an attacking midfield role and was rewarded with a first hat-trick by a Black Stars player since Yaw Preko scored one in 1999.

Thomas Agyepong and Christian Atsu were decisive in an excellent first-half display, and their pace on the wings worked to great effect, especially with the movement of Red Star Belgrade forward Richmond Boakye, who scored twice.

The similarities to the 5-0 win over Ethiopia in June were striking. Then, it was Raphael Dwamena benefiting from the wing-play of Agyepong and Lumor Agbenyenu.

Those performances leave Appiah with some tough calls to make, and they may be calls central to the future of the team and some of its biggest personalities.
Appiah has shown incredible faith in Asamoah Gyan, and for good reason. He is Ghana's top scorer and a veteran leader, but it has become evident that his influence on the game has waned, and that injuries have slowed him down.

With Dwamena likely to be around for years to come, Richmond Boakye in good form, and many other youngsters knocking hard for opportunities, it might be a good time for Appiah to ease Gyan out without waiting for him to become completely irrelevant to the team.

Appiah has a decision to make on Andre Ayew too. The West Ham man has had a tough few months for Ghana and has barely impacted games. The manner in which he was booed off at the Baba Yara Stadium in Kumasi reflected a growing disenchantment, not just with effort that day but with his output in recent games. Like with Gyan, it has become clear the Black Stars can thrive without him.

There is almost a sense of déjà vu about the state of the Black Stars and the ongoing debate. It feels like the days leading up to the 2001 Afcon, when Osam Doudoo, backed by a GFA that consisted of Ben Koufie and Abedi Pele, decided that some of the active veteran players were past their best.

Out went the likes of C.K Akunnor, Augustine Arhinful, and many established names to make way for Michael Essien, Derek Boateng, Sully Muntari and others after their fine showing at the Under-20 World Cup. They would go on to form the backbone of the team that qualified Ghana for its first ever World Cup.
Then there was Milovan Rajevac's bold call in 2010 when he made a deliberate effort to promote the likes of Agyemang Badu, Samuel Inkoom, and Andre Ayew. It worked for a very long time.

Appiah now has his moment to define a new generation for the Black Stars. It is a template that has worked well, especially if the manager shows the steel to make that decision.

And for Appiah, the timing cannot be more perfect, given the misfiring big names, exciting and hungry youngsters, and a long-term project to aim for in 2019.

If he misses this opportunity, every game might feel like Ghana versus Congo in Kumasi. Alternatively, what we saw in Brazzaville, and in June against Ethiopia, could be possible on a regular basis.