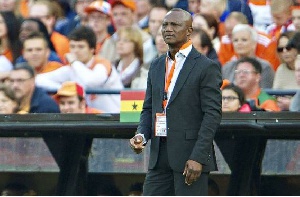 It was in one of the many Whatsapp groups where sports journalists share story ideas, interview clips and sometimes plain pointless stuff that one observed how Kwesi Appiah had been feted like a hero on 'his second coming'.
They have always said it is never a good idea to go back, and there have been plenty examples in Ghana football itself to back that up.

But somehow, as one of the journos observed, this second coming has been well received ... Appiah portrayed as some kind of saviour to right the wrongs of the departed Avram Grant.

It has been a busy few well-choreographed weeks for the former Black Stars captain. He arrived from his base in Sudan to a warm reception, and the usual sight of supporters willing to provide ambience and atmosphere for every occasion. There was a meeting with the executives of the GFA, the minister of youth and sports, and then the president of the country Nana Akuffo Addo too.

In addition to that he has been present at local league games, observing players, and getting a feel of the atmosphere and first-hand knowledge of the swelling expectation.

Throughout all this, one theme has been recurring: He must make the Black Stars as good as he can again.

The GFA has grand aims. Its communications director, Ibrahim Sannie Daara, "has refused to rule out qualifying for the 2018 World Cup" as part of his targets. This despite Ghana sitting a massive five points behind leaders Egypt, having committed the cardinal sin already of drawing one game at home.
He must also win the Nations Cup, he has been told.

Appiah himself has done little to douse the expectations. Boosted by the warm welcome he has switched up his own hype. He even provided a Donald Trump-like "I'll make the Black Stars great again".

And recently, he has been quoted as comparing his return to the coming of Jesus Christ.

What that means we can never tell. What is happening is obvious though ...

After a period when the Black Stars has become less and less popular off the field and less and less potent on it, there is this almost manic desire to get it right. That decline started under Appiah himself, and the wisdom behind Grant's appointment was that he had the skill-set and experience to make it better.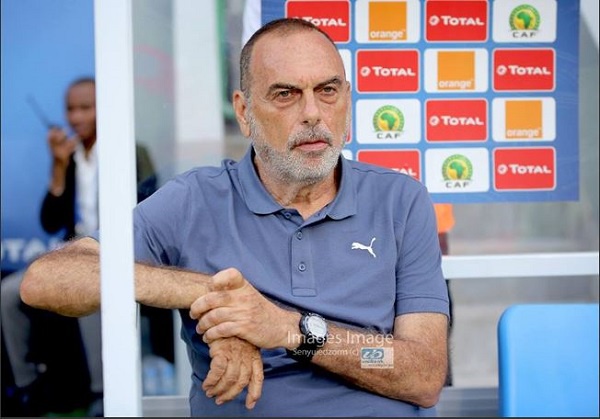 Instead it has become worse. Grant talked a good game, but he barely walked that talk. A Nations Cup final under him in 2015, one step better than semifinals of 2012 and 2013, provided hope. Then we discovered he just didn't fancy the job as much as he fancied giving expert opinions on everything else on SkySports. He wouldn't stick around to watch games, and he became our first foreign-based foreign coach whose presence at domestic games required big headlines.

The evidence of that in how the team played was clear. Ghana's slide in the FIFA rankings has been spectacular as the Black Stars drew games against Comoros, lost to Rwanda at home, and failed to beat Uganda in World Cup qualifying.

Part of the Grant era highlighted the problems Appiah faced. Those who back Appiah, myself included, have always been convinced he was a small part of the problem at the chaotic 2014 World Cup. That team was undone by problems no coach could solve.

Grant and his people suggested otherwise, until they had to deal with a minister who dug in and messed up Grant's plans for the game against Rwanda.

That Rwanda story must be the reason Appiah would be delighted with the concerted effort to make him feel welcome. It is simply suggesting that the friction between the Sports Ministry and the GFA that threatened everything Grant did at periods of his management will not be there again.

The rest will be entirely up to Appiah.
But the above-mentioned 'rest' is an awful lot that requires tact and big balls because he will have to hurt some big egos in the process.

First, he has to confront the honest truth about the make-up of the present team and make some tough calls. But this will not be the sort of rebuilding exercise that a lot of people predicted.

The base of the team remains in place. The likes of Jonathan Mensah and Daniel Amartey have been around and will remain around for sometime. When he recovers from injury, Baba Rahman will still be an integral part of the set-up.

Thankfully for Appiah, Thomas Partey is growing in stature, influence and confidence at Atletico Madrid and, unlike in previous years, Christian Atsu is playing with a smile on his face, Jordan Ayew has looked good in wide positions for Swansea, while his brother has recovered from a tough start West Ham.




Those players are evidence that Appiah may be taking over an underachieving side, but certainly not one strewn with waste as the narrative has sometimes been.
Still he has got to axe.

For instance, how long will he persist with Asamoah Gyan as the years continue to slow him down? Gyan has to remain captain, he has to be around in some playing capacity, and his exit as captain and player must be natural, not enforced. But it is almost inevitable that to thrive, Appiah may need to place a lot more faith in others for consistent goals.

If the last Nations Cup showed anything, it is that long term, Gyan can't continue to bail Ghana out. That is where Raphael Dwamena, who has been on a blistering run of form in the lower divisions of Austria and Switzerland, might be useful. Or Majeed Warris might provide a new lease of life for the team. Or even David Accam.

Appiah would need to act and give others more leverage - not as a negative statement on Gyan, but as an acceptance of the inevitable based on recent form.

And that sort of decision will need to be replicated elsewhere. The former Ghana captain needs to think about a new goalkeeper; maybe make a pitch for Dennis Appiah at Anderlecht, or take a closer look at a youngster like Ebenezer Ofori.

It won't exactly be a rebuilding job. Those ones never work. Appiah's second coming will be almost like a gradual integration for many.