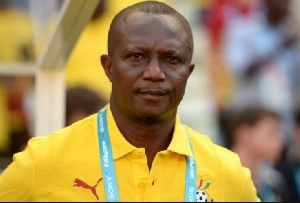 Sun, 3 Sep 2017 Source: Gary-Al Smith
Minutes after Ghana drew Congo 1-1 at the Baba Yara Stadium, Kwesi Appiah addressed the press.
Following his interaction, I took to Twitter and issued the following:


Kwesi Appiah just finished his press conference. I repeat: He is an absolutely tactically bankrupt coach. He can't even talk tactics.

— Gary Al-Smith (@garyalsmith) September 1, 2017
I like to be consistent, so let me explain the thoughts behind that statement in a way that 140 characters won't allow me to.
Appiah still isn't the right man
Before Kwesi Appiah was reappointed, readers may recall that I expressed misgivings about the decision on radio, television and in writing.
I wrote that I only supported the decision to give him the job once more was because among the final shortlisted names, he was the best of three poor candidates.

Kwesi Appiah is not the best coach for Ghana. He was the best choice – economically and from a prudent point of view – among Willie Sagnol and Hugo Broos.

The Ghana – Congo case study

On Friday, there was ample evidence for me that Kwesi Appiah is always tactically beaten by any coach who is half decent.

He said Joseph Attamah Larweh was chosen at RB because "we saw him at training and he was good."
I personally was not at the Black Stars training sessions, but my colleagues who were, do not give me the impression that Attamah was that good. The lad is a DM. Occasionally he plays at CB, never as a RB.

Appiah said he didn't start Harrison Afful because the player wasn't fully fit. The obvious question is: why didnt Appiah tell us _before_ the game? Why does he allow things to happen before reacting to them?

Before Kwesi Appiah came for his press briefing, the Congolese boss addressed the media.

Sébastien Migné's posture, conviction and charisma spoke volumes. He answered questions head on. He explained why he set up his team the way he did, and we were left in no doubt.

Not so for the Ghana boss: unsure, and unconvincing as he was.
What bothers me about Kwesi Appiah is his willingness to blame everything that goes wrong on fate. When the CHAN team failed to make it to the upcoming 2018 tournament two weeks ago, he said "it is unfortunate but these things happen."

After Ghana 1-1 Congo, he repeated the same lines. I've listened to the tape and he used the phrase "it's unfortunate" four times.

Ghana does not need a coach who makes fateful tactical decisions. Ghana needs a coach who can outfox his opposition during the game when things become tight. Ghana needs a coach who can transmit a sense of urgency into the players when they are being slothful.

I did not see that in Kwesi Appiah on his first stint. And I don't see it now.

Lest my view be taken as hasty generalisation, let me say that I have had full-length, one-on-one interviews with Kwesi Appiah about four or five times since 2012. I have never left those interviews feeling edified and educated. So this opinion I have is not new.
Leadership, please

My thoughts were confirmed when I spoke to Asamoah Gyan a few hours later. He admitted that the "team lacked desire and could have done much, much better". In that interview, the captain spoke the way I expected the coach to.

Gyan took responsibility. Appiah did not. Gyan was not afraid to be specific. Appiah did not go there. Gyan said if he didn't get injured, Ghana would have scored. It sounds a bit boastful. But that's what leaders do. They believe in themselves. And they aren't afraid to say so.

I want to repeat, for the avoidance of doubt. I'm a big, big fan of Kwesi Appiah the human being – he is affable, calm, dignified, measured. Essentially, a gentleman.

I am NOT a fan of Kwesi Appiah the coach – slow to spot in-game trends, still doesn't strike me as bold enough for a team like the Black Stars, and tactically not world class.
Source: Gary-Al Smith