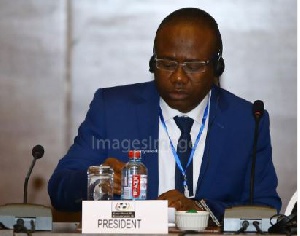 President of the Ghana Football Association (GFA), Kwesi Nyantakyi, is according to reports considering running for the 2019 Presidential elections contrary to his earlier intention not to 'contest' for the upcoming elections.
Fresh reports in the media landscape suggests that the FIFA exco member has made a tremendous u-turn in running for a fourth term in office having assumed power back in December 2005.

This news comes as a very shocking development as the CAF Vice President has in the past reiterated his lack of desire to continue as the President of the GFA.
Nyantakyi back in September told Joy FM:"Somehow somewhere I will quit. I believe that the time will come that I will have to put down my tools and take off my boots. I have announced already that after the end of my tenure I will not seek re-election."

Meanwhile, FA Vice President George Afriyie and Dreams FC President Kurt Okraku have all been tipped to run for the 2019 Presidential race.