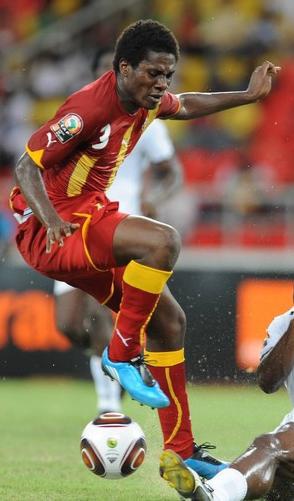 Wed, 7 Jul 2010 Source: Peacefmonline
Despite the quarter-final berth achieved by the Black Stars at the FIFA World Cup and the rave reviews and accolades being heaped on the team, Managing Editor of the Insight newspaper and a member of the Socialist Forum of Ghana, Kwesi Pratt Jnr., strongly believes the performance of the Senior National Team at the tournament is not that extraordinary or exceptional to merit the spotlight.
The Black Stars' were beaten by Uruguay in a penalty shoot-out after a pulsating and a rather dramatic quarter-final game last Friday.

A 46th minute Sulley Muntari sizzler was cancelled out by a delicious Diego Forlan free-kick in the 55th minute. Ghana's Asamoah Gyan also missed a 120th minute penalty after striker Suarez "netballed" a goal-bound header back into play.

The Black Stars, drawn in the same group with Serbia, Australia and Germany, managed to squeezed through to the Second Round, where they defeated a highly-fancied USA team 2-1, to set-up that mouth-watering clash with Uruguay.

But, though Mr. Pratt Jnr, concedes that the Stars', to some extent needed to be commended, he strongly contends their performance at the tournament especially during the quarter final game was below par.
According to him, the team underperformed considering the numerous chances they squandered which could have made them Africa's first semi-finalists.

"...i have nothing against people who shower praises on the team, but they (Black Stars) should be criticized, and spoken to as welI to have a change of mentality when going into a major tournament on a global scale...by so doing this will propel us forward as Ghanaians and as Africans...and break that quarter final jinx we have set for ourselves," Kwesi Pratt said.

Since the inception of the World Cup in 1930, only three African countries; Cameroon in 1990, Senegal in 2002 and Ghana 2010, have reached the quarter-final stage of the biggest sports festival in the world.

This, the outspoken social commentator said, needed to be halted.
Speaking during a panel discussion on Peace Fm's "Kokrokoo" programme Tuesday morning, he told Kwami Sefa-Kayi, host of the show, that Africans should not always be content with a quarter-final berth but strive to achieve more.

"Do we Africans have to always reach the quarter final stage?" he asked.

"The same way most Ghanaians are satisfied with reaching the quarter-final stage, other countries will not even entertain their team if they failed to lift the trophy," he added.

According to him, since most of the competitive and glamorous European leagues are dominated by Africans with some these African stars plying their trade with top-notch clubs and squaring shoulders with big named European stars, Africa must "aspire for higher standards," he told Peace Fm during his submission.
Mr. Pratt believes the Stars missed out on a golden opportunity to seal victory in the dying embers of the game against Uruguay because there was a conflict of interest among the players when Portuguese referee Olegario Benquerenca whistled for a penalty in the 120th minute.

According to him, it was ill luck and a bit of selfishness on Asamoah Gyan's part that prevented the Black Stars from qualifying to the next stage.

"Asamoah Gyan wanted to improve his goal record other than that we could have reached the semi-final if even we were not going for the trophy...Improving the record of Asamoah Gyan and getting Ghana to the Semi-Final which was more important?" he asked.

"He (Asamoah) should have exercised restraint as he effected the penalty kick," he added.
The "Insight" newspaper Managing Editor was also critical of the red card handed to Suarez when he "netballed" a goal-bound shot into play.

"...the referee could have declared it a goal and showed him (Suarez) a yellow card...because at the time (120minute), showing the Uruguay striker a red card was not going to affect them in any way since the game was relatively speaking, over... the best thing to have done was to declare a goal and yellow card him to end everything," Kwesi Pratt Jnr. opined.

He pointed out that in so far as ministers are catered for with the tax payers' money, and pressured to perform, Ghanaians had every right to insist that the Black Stars performed to satisfaction. He also demanded accountability from the entourage to South Africa.

"Accountability is very important, it is legitimate for any Ghanaian whether NPP, CPP or whatever to ask for accountability," he added.
Source: Peacefmonline