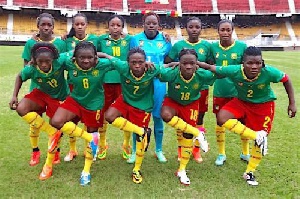 Good afternoon everyone and welcome to our coverage of the AWCON semi-final match between Nigeria and Cameroon.
Cameroun will be aiming to end Nigeria's dominance over their team when the two sides meet this afternoon at the Accra Sports Stadium.

Cameroon will hope to avenge the 1-0 defeat they suffered at the hands of Nigeria two years ago when they hosted the tournament.

At yesterday's pre-match press conference, Cameroun's head coach, Touongo Ndoko Joseph Brilliant, noted that his team were determined to stop the Super Falcons in pursuit of their first Women's AFCON title this year.

"You always have to know your history and know where you are going. History tells us that Nigeria have won the Women's Cup of Nations so many times and the same history tells us that Cameroun has never won this trophy.

"We have made mistakes previously but we have tried to correct our mistakes and we go into this game and play our hearts out knowing that there's always a first time, and maybe tomorrow may be the first time for Cameroun.
Nigeria's head coach,Thomas Dennerby has called the bluff of his counterpart and stated that the Falcons were determined to maintain their dominance over their northern neighbours.

"I know the history between the two teams but history does not matter tomorrow. Every game has its own life and other teams are coming closer so the Nigerian team has to work harder to beat any of the teams," the Swede told the press.

Follow live updates of the game here