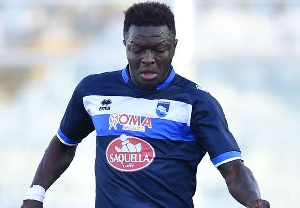 There have been widespread allegations that Ghana midfielder Sulley Muntari, on Monday, July 31, 2017, slapped a referee at Kotobabi Wembley during an all-star ceremonial game but Laryea Kingston says they are false allegations to slur the image of the former AC Milan player.
Reports in the media are that the said referee in an interview with Peace FM on Monday morning alleged that he was slapped by Sulley after flashing a yellow card at him.

But Laryea Kingston who was a witness to the incident said Sulley never slapped the referee, insisting it's an attempt to paint Sulley black.

Laryea, whose team played the all-star professionals, said the referee's attitude on the day was irritating and was doing everything to get Sulley off his seat.

Speaking to GHANAsoccernet.com, Laryea narrated: "I was there when the whole thing started. Sulley never slapped the guy. It's a lie."

"While on the bench, I saw the referee frustrating Sulley for reasons better known to him. He whistles for a foul against Sulley for any tackle. All this while, I saw Sulley always trying to talk to him to take it easy.

"On one occasion, Sulley knocked my player but the referee did not give a foul which eventually resulted in a goal against my team. At that point, Sulley told the referee he should have rather whistled for a foul against him for that tackle.
"Surprisingly, the referee told Sulley he's not the one to teach him his job. That was when Sulley got angry and wanted to confront the referee but he was restricted by myself, Eric Bekoe and Sheikh Tophic of GHANAsoccernet.

"So there was no incident like slapping," Laryea further noted.

The former Black Stars winger then revealed one of his players saying the referee's act was deliberate as he had planned to do that the previous week.

"One of my boys told me after the game that the referee went to Sulley for something (money or boots or something) after the game the previous week and Sulley denied him. So whilst at the dressing room where my players were changing, he said he will teach Sulley a lesson whenever they meet again. So he deliberately did that to Sulley," Laryea added.

Laryea then cautioned against bad reportage and called on all who want to ascertain the truth to find out from the names he mentioned earlier.