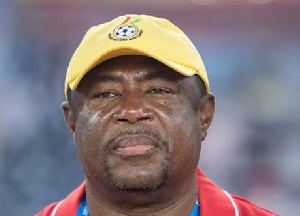 Celebrated Ghanaian coach J.E. Sarpong says he is not surprised by the decision of the FA to boot out Paa Kwesi Fabin as the head coach of Ghana's national U17 side, insisting it is the law of karma that is seeing him off.
The Ghana Football Association recently renamed coaches for all the male national teams as well as the senior female national team except for the Black Stars.

Paa Kwesi Fabin who guided the U17 side to the win Silver at the 2017 AFCON as well as qualifying for the FIFA World Cup after a ten-year absence was replaced with Dreams FC head coach Karim Zito.

Many have argued that Paa Kwesi should have been made the U20 coach to see the steady progress of the players he handled last year but Coach Sarpong believes it serves Paa Kwesi right to be replaced.

"As for Paa Kwesi,the way he was appointed the coach of the U17 is the same way he has been replaced. It's the law of karma. He lost it the same way he was handed it," Coach Sarpong told Alpha Radio in Kumasi.
"I have no problems with him. He is a quiet boy but I don't hold any bad feeling for him being replaced," he added.

Coach Sarpong further explained that some public pronouncements of Paa Kwesi Fabin also contributed to his sack.

"You remember he (Paa Kwesi) publicly accused authorities of not paying his salary for some months and that is something the GFA frowns against," he added.