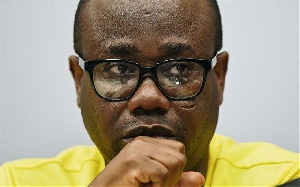 President of the Liberia Football Association Musah Bility has jumped to the defence of Ghana FA President Kwesi Nyantakyi following charges of allegedly using the name of Ghana's presidency to lure investors for the country.
The celebrated President of the Liberian FA who is a member of CAF's Emergency Committee believes that the allegations leveled against Kwesi Nyantakyi are normal in Africa and must be treated with kid's gloves.

He added that the Ghana FA boss who doubles as CAF 1st Vice President has a lot to offer Africa football and attempts to plug him off the continent's football governing body must be discarded, adding ghat he's a credible person.

Speaking on Beach FM in Ghana, Bility noted that he's not surprised with Nyantakyi's current situation since it's been part of Africa football for long.

"I'm not surprise with the current situation Kwesi Nyantakyi finds himself in. Allegations of corruption against FA Presidents and governmental manipulations is a normal practice in Africa," he said.

Musah strongly argued that despite the charges and frustration s against Kwesi Nyantakyi, it doesn't write off the fact that he's a good man who's contributed immensely to Africa football at large and Ghana football in particular.
He further indicated that the top hierarchy of CAF are confident that the Ghana FA boss will come clean of the charges leveled against him.

"Kwesi Nyantakyi is a good man, his credibility is undoubted and we at CAF are very confident he will come out clean."

The Ghana FA Boss was recently invited by the Criminal Investigation Department of the Ghana Police Service, upon an order by the country's President Nana Akufo-Addo for using the name of his office to lure investors to invest in ghetto country.

Nana Akufo-Addo's call came after watching a video documentary by investigative journalist Anas Armeyaw Anas in which Kwesi Nyantakyi is alleged to have used the name of the presidency in charting a business deal – a position the country's President wasn't happy with.

Following the President's call, Kwesi who was in Saudi Arabia on a private mission, truncated his travel to return to Ghana to assist in the investigations.