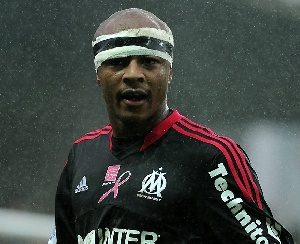 There is a certain stigma in England regarding signing talented African players. Every two years the African Cup of Nations takes away the some of the clubs best players, right in the middle of the Premier League's busiest period.
However, sometimes in life, there are chances you have to take, moments that you cannot pass up. In Marseille forward André Ayew, Liverpool have the opportunity to sign an exciting, talented prospect, only 24 years old for what would be a minimal fee. Regardless of his nationality, the Anfield club would be crazy to let this chance pass.

Ayew, the eldest son of famous Marseille legend Abedi Pele, is one of the most talented players in the current Marseille team. He doesn't always catch the headlines; they were reserved for Mathieu Valbuena – who left for Dinamo Moscow in the summer – and Andre-Pierre Gignac, who has 10 goals in 10 games in Marseille's current run, but he crucial to Les Phocéens success.

Under previous bosses, Ayew has struggled with his identity as a player. At times it felt like no-one quite knew how to get the very best out of him. He has the ability to play anywhere on the front line and can even be effective as a striker.

That's why most describe him as a forward. He is not a midfielder, although he often cited in the past that he felt central midfield could be his best position. There is no doubt he is strong and physical enough to play that role, but it would undermine his attacking potential.

Argentine coach Marcelo Bielsa has changed the fortunes of most of Marseille's starting lineup, Ayew is no different. He looks invigorated, driving OM forward and getting himself in dangerous positions in the final-third while adding creativity to the midfield.

This is Ayew's sixth season in the Marseille first-team; he's been around that long that you forget he is still the right side of 25.
The Ghana international has entered the last year of his contract with Marseille and is currently earning around €50,000 a week, that's £25,000 less than what Jordan Henderson currently earns at the same age. Despite Ayew being an integral part of the Marseille attack, the club can't afford to offer him much more, so they risk losing one of their prize assets on a free transfer next summer.

Making nothing from Ayew would be a disaster for the French club. He is one of the best players the club has developed in recent seasons and to see him leave without making something back on their investment would be a disaster.

While Liverpool are currently thought to be looking for more attacking options Ayew would be available for just £3 million, and if Liverpool are smart, they would forget about the fact he'd miss club action until around February and snap up one of the bargains of the year.

Ayew would bring a certain versatility that the club doesn't quite have at the moment. He would link well with Raheem Sterling and Adam Lallana and give them a new dimension in attack.

He is very much underrated in the air and loves nothing more than arriving at the back post to out jump unsuspecting full-backs. Quick with the ball at his feet, he is unselfish and loves nothing more than creating chances for others as well as using his strength and pace to burst past opposition back lines.

In the last five seasons, Ayew has scored 36 goals in 147 games, not bad for a player that has played in a multitude of positions.
Liverpool could take the chance and wait until the summer to try and sign Ayew on a free transfer, they would even be able to speak to the forward come January 1, but why wait until the last minute?

Making the move this winter would give the Ghanaian forward a chance to settle and become accustomed to life in a new country with his new teammates way before the summer break. With no European or African tournaments planned this summer, he would be able to take part in a proper pre-season schedule, rather than waiting until July to join his new side.

Ayew has been linked with moves to England before, but no Premier League side has taken the plunge. Perhaps it was his versatility that put him off, or watching a Marseille side playing nowhere near their best over the past 12 months.

Under Bielsa, Ayew has shown France just how good he can be. At 24 years old, he is at the perfect stage of his development to take the next step.

The current attacking options aren't quite working out for Brendan Rodgers this season, and with Divock Origi not likely to join until the summer, reinforcements are needed and in Andre Ayew they would have someone that could make a difference immediately.