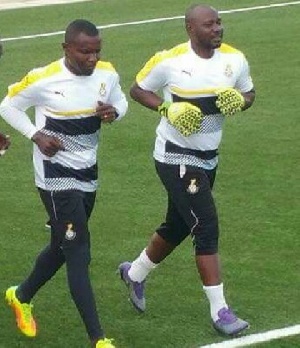 Newly appointed local Black Stars trainer Issah Najahu has lavished Richard Kingston with kind words as the two trainer kick start their union at the national team.
The former U20 goal keepers trainer dubbed Richard Kingston as the complete team mate and one worthy of earning any body's respect.

The two retired goalkeepers have been tasked with the mantle of refining the national goal keepers for the various national teams.

Issah Najahu, who has been elevated from the Junior teams onto the Black Stars team B, hailed the all round qualities of Olele as they team up for the Black Stars.

"Richard Kingston is such a lovely figure and complete team player.
"He has seen a lot in world football and anybody closer to him will learn something from him.

"The qualities he bring on board are even beyond football terms and I am sure his presence will be a motivation to anybody closer to the National team irrespective of whether you are a goal keeper or not", Issah Najahu told sports crusader.

Najahu has risen through the ranks of the various national teams since been hooked onto the national grid.

He has so far worked at the Black Starlets , Black Satellites, the Black Queens before recently joining the Black Stars B. Richard Kingston meanwhile was handed the Black Stars goalkeeper's trainer as part of the new managerial revolution.